Last Tuesday, I posted about a pair of delightful
shoes
. I covet these shoes and will probably continue coveting them for the next year I suppose. Alas, the TUESDAY TEMPTATION was born. Every Tuesday, I'll post one thing that I really really really want, but can't have.*
Here's what I'm wanting NOW ... drumroll please ... I would like a pair of over-the-knee boots. Don't judge. I'm almost certain I can pull these off without looking like a hooker, but of course if I can't than at least I can stop thinking that I want a pair? I have extra special affection for these.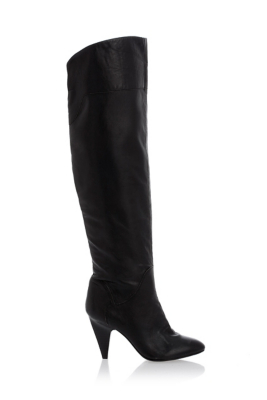 They can be purchased
here
. And it looks like they are even on sale from $199 to $119. Old self would be all over that like a fat kid on cake. I mean they are ON SALE!
The dilemma ... whether or not to try them on. Trying things on is NOT AGAINST THE RULES and if I can't pull them off without looking like a streetwalker, then I can stop obssessing over them. (FYI - I actually had DREAMS about the Steve Madden Intyce boots before I pulled the trigger. Gus likes to remind me of this as a testament to my craziness) But what if they look super hot and cause me to have dreams like the ones just mentioned? AAACKKK!

*Tarcy is also keeping track of the thing she really really wants, but can't have. You can check her out
here
.